Pediatric Clinic in Joliet, IL
Why choose Internal Medicine & Family Practice? Pediatric clinics are important for your children's growth and development. Our primary care doctors,

Dr. Wael Mctabi

and

Dr. Samiullah Choudry

are providing top-notch services for your kids. We are open 5 days a week for advanced patient care for children and young adults and are home to a team of leading healthcare professionals who care deeply about you and your family. For more information, please

contact us

or schedule an

appointment online

! We are conveniently located at

1719 Glenwood Ave Joliet, IL 60435

. We welcome walk-ins!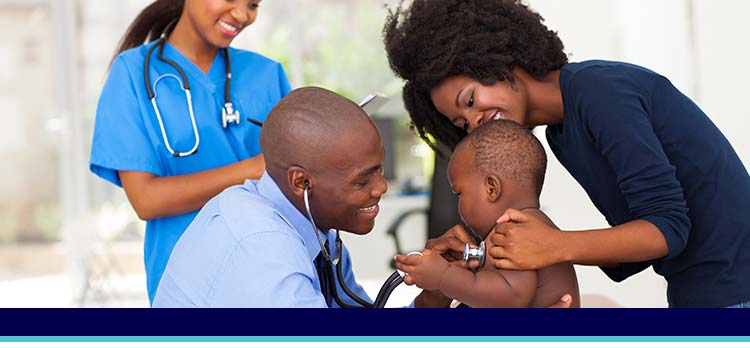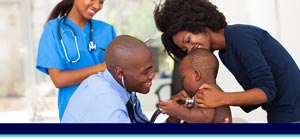 Table of Contents:
What is a pediatrician?
What are well-child visits?
How often should my child see the pediatrician?
What is a pediatrician?

A pediatrician is one of many medical professionals that has chosen to focus their medical practice on a specific part of the medical field. In this case, the doctor has chosen to specialize in the care of the youngest members of our population, providing medical care to children from newborn through to 18 years of age. Pediatricians aren't just educated and trained in medical conditions and the phases of growing that are specific to children, they have also received training in being empathetic and working with a gentler touch and demeanor to help calm children.

Going to the doctor can be a scary experience for children, pediatricians are very mindful of those fears and misgivings, and have set up their clinic space to be a colorful, friendly, and inviting space to help ease their patient's fears. They also have a calm and gentle bedside manner that can help to put children at ease and have tactics aimed at children so they can administer vaccines, perform screening tests, and generally get children to relax and open up to them. Finding a doctor that both you and your child are comfortable with is important for your child's long-term health and wellbeing, as their pediatrician is a key partner in your child's care.
What are well-child visits?

Well-child visits are an important part of the growth and development of your child, starting from birth. Your child's pediatrician will let you know the frequency of their visits, but well visits are intended to check in with your child. Your pediatrician will check on your child's height, weight, and other vital stats, as well as ask questions about their eating and sleeping schedules. This is the doctor's opportunity to make sure your child is growing and developing as they should, according to the important milestones.

During the well-child visits, your doctor will perform any preventative screening to test for developmental delays or early signs of medical conditions that require monitoring or treatment. Vaccinations can also be administered during a well-child visit if your child has any vaccines due at that time. Well-child visits are important for the parent as well, as this is your opportunity to ask the pediatrician any questions you have about your child's health. You can discuss any concerns you have, any milestones you should be watching for, age-appropriate activities and games you can do to help your child's development, and any other information you want to know about.
How often should my child see the pediatrician?

Your child's pediatrician will be their primary care doctor from their birth through to the age of 18, or potentially longer if they have a chronic condition that requires the calmer, gentler care of a pediatrician. The frequency of their visits to the pediatrician will vary based on their age and development, as well as any existing medical conditions. Through the early years of your child's life, they will be seeing their pediatrician on a frequent basis. During the first year of life, babies will need to be seen every few weeks to a month to check on their growth, how they are feeding and sleeping, and for their early vaccinations. After the first year, they will still need to be seen regularly, typically more often than once a year, but not as frequently as they did as babies.

Once children hit 5, their visits will become an annual occurrence for their annual checkup. Additional visits are possible as needed if your child gets sick or if they have a condition or symptoms that their pediatrician wants to keep an eye on. Your pediatrician will let you know the right frequency of visits for your child, as each child's needs will be different. Internal Medicine & Family Practice has a full staff of pediatricians and other medical staff trained to work with children and can provide medical care of all kinds to patients under the age of 21.

Internal Medicine & Family Practice would be pleased to help you with your child's illnesses, injuries, and medical concerns. For more information, call us or schedule an appointment online! We are conveniently located at 1719 Glenwood Ave Joliet, IL 60435. We welcome walk-ins! We serve patients from Joliet IL, Manhattan IL, Channahon IL, Bolingbrook IL, Naperville IL, Lockport IL, Romeoville IL, and Plainfield IL.